GAA takes root in Munich
As featured in the December 2001 issue of the Hogan Stand Print-Edition
A small piece of history was made last May when the Munchen Colmcilles GAA Club was founded in Munich. The name Colmcilles itself synomenous with a historical city which when translated, means 'the monks'. Muenchen Colmcilles is currently Germany's only official GAA club and since its formation, its membership has increased to approximately 40. To date, the fledgling club has participated successfully in three rounds of the European GAA Football League in Luxembourg, Brussels and The Hague, Netherlands.
Munchen Colmcilles was founded following a chance meeting between a few Irishmen in Munich's renowned English Garden. One of those was Paudie (Patrick) O'Kelly, a native of Newtownmountkennedy, Co. Wicklow. "It was all a total accident really," says O'Kelly. "The English Garden is one of the largest parks in Europe and, like in any city, it's where people go to get away from all the commotion. I remember one day bumping into two other lads - one of them being Aido Patton from Donegal - who were having a kick-around with an O'Neills football. I got talking to Aido and that was really the start of it all," he adds. Within weeks of O'Kelly and Patton meeting, Muenchen Colmcilles was formed and the new club was participating in the European League in Luxembourg. The club travelled to Luxembourg with six players and was forced to borrow a seventh from another club in order to compete in the seven-a-side tournament.
Since then, numbers have increased dramatically with Munchen Colmcilles now having approximately 20 full-time players and 15 part-time. The club also has five non-playing members. "Of the 40 or so players we have, all but two are male," Paudie explains. "The majority of our members are Irish but we also have French, German, Australian and Bosnian nationalities involved. Why should we mind what nationality we have playing for us - our main aim is to promote gaelic football.
O'Kelly, who has been working with Siemens Financial Services GmbH in Munich since November 1997, notes that many club members were recruited from student camps. Other contacts were established in the Irish pubs and by word of mouth. "We went around to some of the student camps and found that there was a lot of Irish students interested in joining the club. The Irish pubs and organisations were also good places to find potential full-time members, already living in Bavaria. While a large chunk of our membership during the summer months is made up of students, we'd like to get ourselves into a position where we would have people in it for the long haul." Until recently, Munchen Colmcilles met up and trained in the English Garden. The club has since moved its training base to Ost Park which, according to Paudie, is more suitable for the playing of gaelic football. "While playing there is far from being ideal, we find Ost Park to be more suitable than the English Garden. The English Garden can get very congested and space is often at a premium. We don't have the proper pitch markings or goalposts just yet but we're working on it together with The International Dimensions Committee of the GAA," he says. Germany's first official GAA club was formed in Munich earlier this year. Wicklow native Paudie O'Kelly was one of the founding members and he recently spoke to Randal Scally about the club's plans for the future.
Paudie O'Kelly is treasurerMunchen Colmcilles is registered with Croke Park via the European GAA Board, however strive towards a future German GAA league. The club, which also has its own website (http://munichgaa.tripod.com), recently purchased its first kit from O'Neills in Dublin, which is Bavarian blue and white in colour. Depending on interest, Colmcilles hope to field a provisional hurling team for 2002, with an established hurling team for 2003.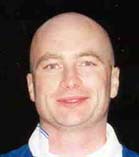 Now that the club is reasonably well established, Paudie and his colleagues are anxious to see the formation of a German gaelic football league. He believes that the onus is on Munchen Colmcilles to ensure that this comes to fruition. "In reality, we are the GAA in Germany and it's up to us to get a German league going. In cities such as Berlin, Cottbus, Nurnberg, Dusseldorf, Stuttgart and Frankfurt, there are large Irish populations and there is great potential for GAA clubs to exist. We continue to make contacts and assist in the setting up of German clubs. Our goal is to have an additional 4 German clubs set up through 2002. "From our own experiences, we have found that there is a lot of red tape, such as registration, club-constitution writings, insurance costs etc, involved in getting a German GAA club off the ground. But we have done the groundwork for other potential clubs in Germany and we are prepared to offer them every assistance and whatever expertise we can in getting them started up." O'Kelly is hopeful that a German league will be up and running within the next 2 years but until then, Munchen Colmcilles remain content with European competition. "The GAA is active in countries such as France, Belgium and Luxembourg but we'd prefer to have our own league here in Germany for various reasons, and especially when the travel-cost factor is taken into account," he says.
At the moment, Colmcilles are planning an 11-a-side tournament, and their first, which they hope to stage themselves next St. Patrick's Day. A number of clubs from both the Continent and Ireland are expected to take part. Paudie, on behalf of Colmcilles, is very appreciative of the support Colmcilles have received from Paul Fleming, the owner of Kilian's Irish Pub in Munich. "When you're just starting out, you can do with all the help you can get and in this regard, Kilian's Irish Pub has been superb to us," he concludes.
The Muenchen Colmcilles club officers are as follows:- President, Adrian Patton (Donegal); Chairperson, Niall McCorley (Kildare); Vice-Chairperson, Paul Larkin (Armagh); Secretary, Dan Galavan (Wexford); Vice-Secretary, Maria Lane (Cork); PRO, Daire Kivlehan (Cavan); Team trainer, Niall Barrett (Kerry); Treasurer, Paudie O'Kelly (Wicklow).
Paudie O'Kelly is treasurer and a founder member of the Munich Colmcilles club