2003 Euro League - Munich leg : Meal / Refreshment details
Sat 09th August 2003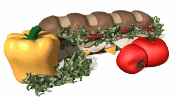 The evening meal will take place in the Augustiner beerhall on Neuhauser Street number 27, near the city centre. Click here for map. The meal begins at 8pm sharp, the beer hall closes at 1am.

The evening meal consists of:
Starter:Salad
Main course: Schnitzel Wiener Art, with Bratkartoffeln and Vegetables.
Dessert: Apfelstrüdel with vanilla ice cream.

For non playing members, the meal costs 20€. This doesn't include lunch pack during the day.
Vegetarian meal availible on request.
During the day:
Lunch pack

The meal costs €25, which also includes the lunch pack during the day of the tournament. The costs do not include Drinks. Due to limited numbers, places cannot be guaranteed for latecomers/payers.

The 'afters' will take place in
Irish pub (open 'til 3 am), which is a 3 minute walk from the beer hall.





For further details, please contact the club at: