2002 Euro League Round 5 - Brussels , Belgium
Saturday 29th June 2002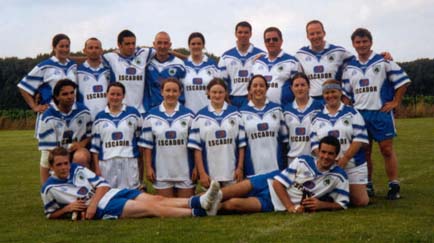 Back Row (L-R): Lisa, Dan Galavan, Paul Garahy, John Toal, Sinead Larkin, Brendan Sharkey , Terry Magee, Paul Larkin, Daire Kivlehan. Front Row (L-R): Pat Collins, Aine Twomey, Eileen Quinn, Aoife Kennedy, Deirdre Ni Dhea, Jean, Maria Lane. Front (L-R): Eoin O'Suilleabhain, Mick O' Connell
First Semi-Final appearance for the Colmcilles.
It's over a year since München Colmcilles' first participation in the Euro League, and we have at last reached our first semi-final. The day got off to a disapointing start with a defeat to a Paris in the first game.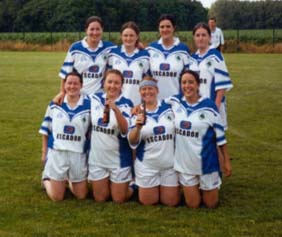 This left us with the daunting task of needing to beat both hosts Brussels and championship favourites The Hague. Munich won the Brussels match through good teamwork and no lack of determination, to leave us with the chance of progressing further with a win against the Hague. The Hague match was a toughly fought affair with the Colmcilles having the advantage of an early goal. With the Hague chasing the game and needing a goal themselves, Munich exploited the space left behind the Hague attacks to come out winners by eight points. This win left the Colmcilles top of the group and playing the second place team from the other group, Luxembourg. Once again the game against Luxembourg was an extremely tight and physical match. Both teams scored goals early and throughout the match neither team managed to gain a lead of more than a goal. Just before the final whistle Munich scored a point, reducing Luxembourgs lead to a single point. Luxembourg then went on to defeat the Hague in the final to win their second tournament in a row. Many thanks to all that travelled and for the effort, determination and teamwork put in by all the players. A special word of congratulation goes to the womens football team that appeared in the Womens European League for the first time.