2001 Euro League, Round 5
Brussels Sat 30 June 2001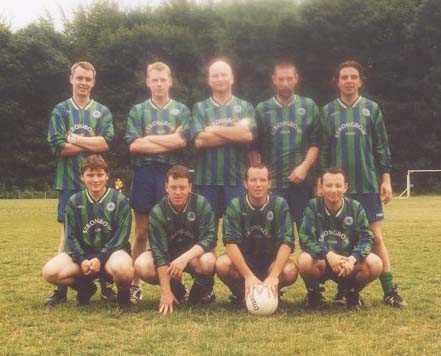 Back Row (L-R): Niall Mc Corley, Jamsie Monahan, Patrick O' Kelly, Noel Mc Kenna, Pat Collins.
Front Row (L-R): Daire Kivlehan, Martin O'Connell, Aido Patton, Dan Galavan.
München Colmcilles finish in 3rd place
Saturday last saw München Colmcilles participate in only their second European GAA tournament.
With teams like Luxembourg (Black Stuff Tournament winners last month), The Hague (last years winners), Brussels (winners from 2 years ago), Paris and Guernsey to play against the odds were stacked against the new team from Germany. After a disappointing performance against Luxembourg in which we were never at the races we came to life in a hard fought game against Guernsey in which a close and sometimes hard-hitting contest was won by a goal.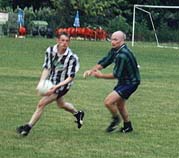 Next up was Paris who had scored a massive 7 goals in their previous 2 games. This meant nothing to München Colmcilles as we knew what we were capable of doing. At half time we were leading the highest scoring team in the tournament by the odd point. This continued until the last minute of the match when they scored what proved to be the winning goal with only seconds remaining. After this defeat the Colmcilles kept their heads up to defeat the two previous champions to earn a well deserved if not "unlucky" third place.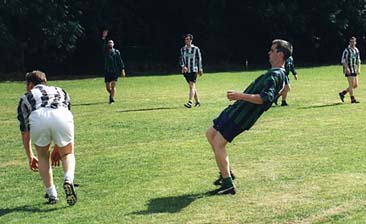 The tournament was eventually won by Paris who beat Luxembourg in a closely contested final. Although the lads didn't bring any silverware back to Munich one of the travelling crew did manage to win some silverware. Maria Lane (club physio and actually tournament physio at some stages) represented Munich in the ladies European final in which she played for Paris ladies team. Maria did herself, Munich and Cork proud by scoring the winning goal which captured the trophy for Paris for the first time. Overall the tournament was a succes for Munich Colmcilles in which the team showed alot of heart and determination.
If the team continues to show this spirit then it won't be long until München Colmcilles will be European champions. I would like to take this chance now to thank the people involved in making this a successful tournament for the team. First of all I would like to thank the team who travelled to Brussels out of their own money. The players involved were: Niall McCorley, Dan Galavan, Noel McKenna, Pat Collins, Paddy O'Kelly, James Monahan, Daire Kivlehan and Martin O'Connell. These are the lads who helped the club finish in a highly respectable 3rd place in the tournament. Secondly I would like to thank Maria Lane who travelled to the tournament as club physio with medical kit and all. Last but not least I would like to thank Dermot Kelly for the use of a set of the Munich Irish Rovers jerseys.

Aido Patton,
2001 Club President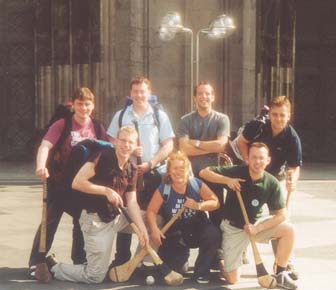 Some of the team outside the Cathedral in Cologne
(photo taken between train connections on the journey back to Munich).