7 players from Munich made the 16 hour round trip to the hague on friday 23rd of August. The 2nd European Hurling Tournament was staged in the Haagsche Rugby Club and this year saw 4 competing teams drawn from 8 different clubs. The Munich side teamed up with Dusseldorf to make a combined German outfit. The other teams were a combined Dutch team (Hague, Amsterdam, Groningen), Luxembourg and Zurich. Having made a team up 5 minutes before throw-in, the german team competed bravely against a strong Dutch team (the eventual winners) before going down in the end by 1-6 to 5 points. Second up were the Zurich team and at this stage the heat and lack of subs !!! were taking its toll. We were up at half time with a great goal from Pat Kealy and only a couple of soft goals in the second half prevented a win. Final score 4-4 to 1-4.
The last game against Luxembourg saw 2 evenly matched teams fighting for the wooden spoon. It was nip and tuck all the way with scores at each end. Finally the Luxembourg had a little more at the bell winning by a single point. Final Score was 1-6 to 1-5. The Final between Zurich and the Dutch team saw the dutch team too strong for the the swiss exiles running out 4-9 to 3-2 winners. As can be seen we put up a good fight to the eventual winners. Player of the tournament was deservedly Robert Kenny from the dutch team.
By Sean O' Keefe.
Scroll down to see the scors and some action shots from the weekend.
Results of European Hurling tournament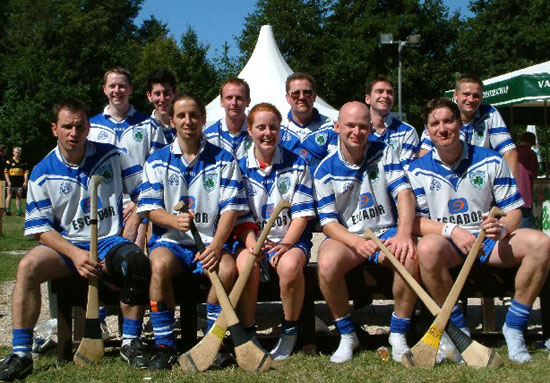 The München Colmcilles + Rest of Germany Combination
Team for the hague tournament:
Goalie: Terry Magee Full Backs: Noel Stubbs, Harmen ? (Dusseldorf) Half Backs: Paul Delahunty (Dusseldorf), Elaine ? (Dusseldorf) Midfield: Sean O'Keeffe, Andy O'Shea Half Forwards: Pat Kealy, Foxy (Dusseldorf) Full Forwards : Richie O'Shea, Dermot ? (Dusseldorf) Super Sub: Declan Sherlock