Currently München Colmcilles have a full Mens Adult Gaelic Football team which has participated in the 2001 and 2002 European-Leagues. Our womens team first emerged in 2002 and participates in the Womens European Football tournaments which run alongside the mens tournaments. To view Club Officers for 2003 click here.

History of Our Club
Muenchen Colmcilles is a recently formed GAA club in the heart of Deepest Bavaria.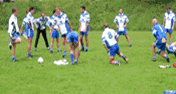 We have been playing Gaelic Football together regularly throughout the summer/autumn 2001 and have participated in 3 of the 2001 Euro GAA league rounds. Achieving Full club status was achieved in November 2001. Our Official name then became "Muenchen Colmcilles GAA Club e.V.", registered with the Munich Club Registration Authority as VR 17453. In 2002 Munich hosted their first Gaelic football tournament which was held in Fürstenfeldbruck on the 10th of August.